Looking at Club Scrap's online
Vogue Club Stamp 2011 Calendar Project
that I constructed last year, I couldn't help but see "a twelve little 2011 scrapbook page project/2011 Year In Review project" coming on. Here is the 2011 calendar project (the undone kit as well as the finished project in one pic), and following are the simple changes I made to it.
Now that 2012 is upon us, I've converted that 2011 project into a 2011 year in review project. Each month is now a mini scrapbook page of something that happened in (or close to) that month during 2011. It's easy to switch around the mini scrapbook pages using the two large brads from the kit.
The 5 -1/2" x 4- 3/4" calendar pages are a breeze to convert to mini scrapbook pages. They don't really need a title because the printed calendar month and year are of course already there, so on some months I simply added a pic and that was it. I can change it every month of 2012 to see what I was up to the prior year, or leave my favorite on the front and page through the rest when I want to look back.
When thinking of coverting this project, it's not like it needs to stay a calendar at all! I put the following project together to use in the horizontal fashion rather than the vertical, and are now using as a shadow box picture frame. The room the calendar took up will be great for a B&W photo I'm thinkin'. I also had to add one of those
orange feather butterflies
to decorate, I have a pack of those on my craft table and find myself using those silly things a lot.
Since a 5" x 5-3/4" picture will be going where the calendar was before, I'm going to use the printed 2011 calendar pages in other ways, like on scrapbook pages and cutting the little printed calendars for slipping inside this small bottle bottle below.
I added a book board riser before adding my picture.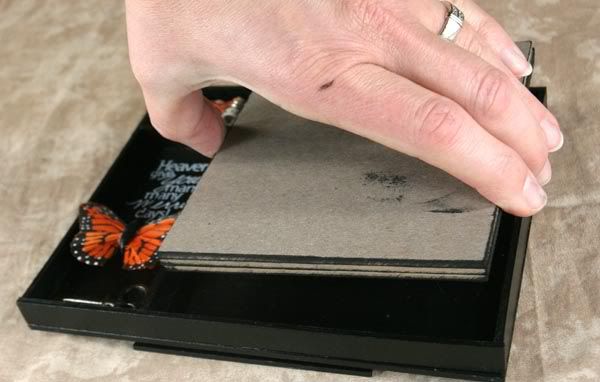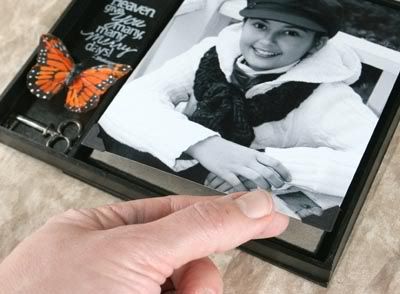 So this "calendar" project is converted even more so than the first, oh ya, and I did cut off an inch on the back book board easel piece to accomodate the horizontal orientation.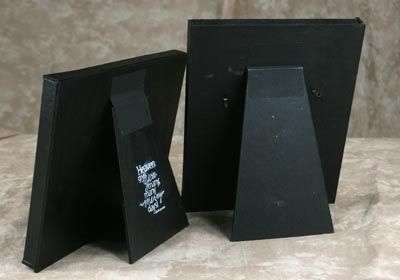 Thinking both of these projects will look cute together on my newly cleaned off desk! It's fun that there are still a few left in
GHM
(that's Club Scrap's Gotta Have More Dept. if you didn't know) to still be made up, and if you already have one done up, hope you don't toss out your old Vogue 2011 calendar, as I'm still enjoying mine.
Thanks for looking, Happy New Year to you!!!!
Kay